About Emery's
COTTAGES ON THE SHORE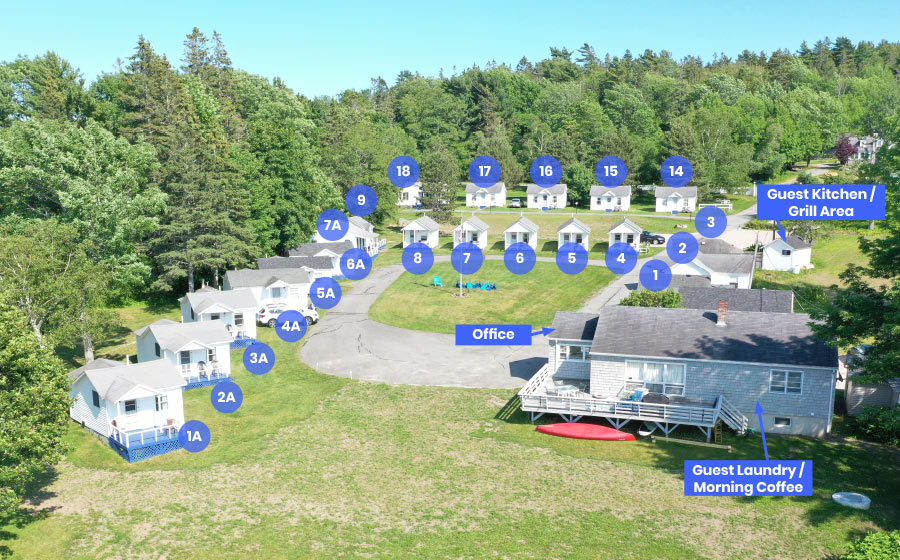 Emery's Cottages are located in Bar Harbor, Maine on beautiful Frenchman Bay, the perfect "home port" for your visit to Bar Harbor and Acadia National Park.
We offer a wide variety of cottages with all the amenities to suit your needs; from cozy one room cottages with no kitchens to multiple bedroom cottages with full kitchens and everything in between.
All of our cottages have private entrances, an outdoor seating area, heat, and wifi. Linens, bedding, towels, dishes, cookware and utensils are provided. We have housekeepers on staff that can come by daily to offer fresh towels.
There are several BBQ grills, picnic tables and lawn furniture located throughout our property for your enjoyment. There is also a guest building where you will find books, board games, an ice machine, a coin-operated washer and dryer, and literature about Bar Harbor, Acadia, and the surrounding areas.
We also offer our complimentary Emery's Cottage Blend Coffee every morning from 7-10am that is roasted right here and is ground and brewed fresh every morning. If you enjoy our coffee you can order it to be shipped to your home – https://www.emeryscoffee.com –
Our property is also home to Acadia Ocean Adventures who offer kayak and paddle board rentals, sailing trips and personalized power boat charters for our guests. For more information visit www.acadiaoceanadventures.com or email [email protected]
Come and enjoy the peace and relaxation of a traditional Maine waterfront cottage vacation!
NO KITCHEN
​Cottages without kitchens have a 2-night minimum stay
KITCHENETTE
​Kitchenette Cottages have a 3-night minimum stay
​FULL KITCHEN
Full Kitchen Cottages have a 5-night minimum stay and are available to rent weekly
Our Property and All Cottages are Non-Smoking.  
No Pets Allowed.
Thank you